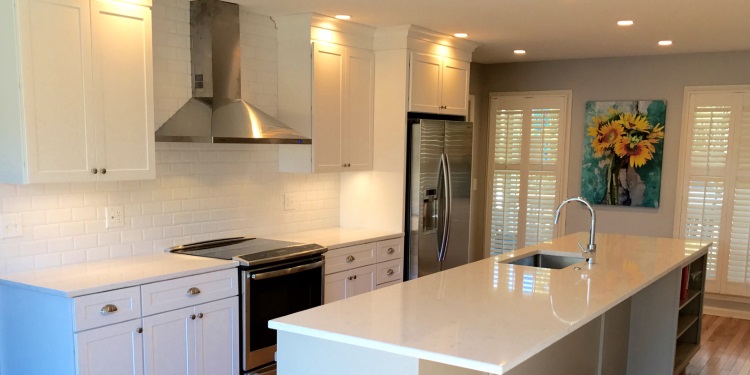 Don't put off your kitchen remodeling because you don't want the downtime! We completely understand why remodeling your kitchen is often put off until it becomes a necessity, but we are going to make it easy, here's how.
How We Make Remodeling Your Kitchen Easy
We're not just a construction and remodeling company, we're homeowners too. We understand how important your kitchen is on a daily basis and why remodeling your kitchen feels like such a headache. We also understand the importance of having a well-designed, custom kitchen that meets your every need. We will help you design your dream kitchen in full detail.
We pride ourselves in being the area's prime custom kitchen remodeling company. We feel that our customer feedback speaks for itself, but here are a few things you can expect from us:
Custom Kitchen Cabinets: We offer several different options of handcrafted custom cabinetry that will make your new kitchen look great, but also blend in with the rest of your living space.
Custom Counter Tops: Materials such as granite, marble and limestone are just some of the materials we can use to give you the most incredible looking counter tops.
High-end Appliances: Finish your remodeled kitchen in the absolute best; you won't regret it.
Backsplashes and flooring options: A nearly endless amount of choices await your selection to add some finishing touches to your kitchen.
We will never leave you in the dark during any phase of the kitchen remodeling project. You can expect to be fully informed and consulted every step of the way. Likewise, we will be available to answer any questions you may have while we are designing and remodeling your kitchen. We consider it part of our job to make sure that you are able to make informed and educated decisions when choosing materials, fixtures, appliances, and colors. Your newly designed kitchen is, after all, our artistry brought to fruition.
Cost to Remodeling Your Kitchen
There is no ballpark figure that we can toss out for you because we don't know what your project will require until we schedule a consultation with you. We will discuss in great detail the costs involved in remodeling your kitchen versus simply redecorating or buying new appliances. Our goal is to work within your budget and a reasonable timeframe. We won't promise a fast turnaround time because we don't rush to deliver subpar results. The quality workmanship in your newly designed and remodeled kitchen will reflect in both the cost and time required for completion.
Thank you for taking the time to visit us online. Before you leave, please take a moment to look at our gallery of kitchen remodeling projects here, and take a look at what previous customers have to say here. If you're in Mount Pleasant, Isle of Palms, Sullivan's Island, Daniel Island, Charleston, West Ashly or North Charleston area and would like to schedule a free consultation with us, please give us a call at 843-971-6772 or email us by clicking here.